The Lumber Industry has been a focused model railroading opportunity for both Standard and Narrow gauge. Steam and Diesel both have a place in the operations of a lumber business, as do a variety of watercraft from deep-water "luggers" to river-bound barges.
Additionally, there is a close modeling interface between the transport vehicles and the process of acquisition starting with the cutting of logs, their transport by water or rail, the mill conversion to rough dimensioned boards, and the shipping of the boards to finishing mills.
There is also an interface between water, rail, and road. This is an excellent opportunity to provide an extraordinary detailed small space.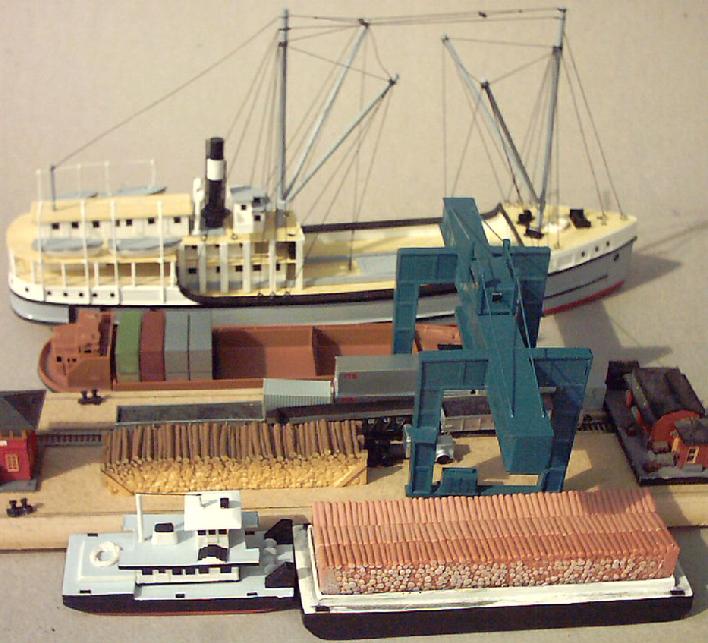 three different portages
SEARAILS has developed a logging wharf component system. The one in this image is a river wharf where cut logs are barged down the river, or delivered by steam engine (usual a SHAY) then transferred by crane to a "lugger", a coastal freighter designed after the

Wapama

which served the California, Oregon, and Washington coastal redwood forests in the late 19the and early 20the Centuries. The wharf is served on both its riverside by tugs and barges and the deep water channel which leads to the sea by the Wapama. There is also a single rail head at the center of the wharf flanked by an office and service shed. A shunting two-track "runaround" provides the "logs on/empties off" service.
All trademarks and other intellectual property on this site are owned
The SEARAILS "DISPATCH" of The Guild, dba The Guild of Information.